Flowers and ironwork fence in front of a house in New Orleans, Louisiana
© Lauren Mitchell/Offset by Shutterstoc
Mardi Gras flower power
While the purple flowers and green ironwork may not look overly festive to the untrained eye, residents of New Orleans will no doubt spot the significance of both, especially today, on Mardi Gras, the final day of Carnival. Purple and green are two of the three official colours of Mardi Gras, together with gold. In a normal year, the streets would be full of revellers decked out in all three colours as they dance and parade down the streets of the city. Due to COVID-19, there won't be any parades this year, but the colours will still be on full display in the city's famous French Quarter and elsewhere, including as colourful icing atop king cakes, a beloved treat that's associated with the Carnival season.
The colours themselves have officially been part of Mardi Gras since 1872, when they were introduced by the newly formed Krewe of Rex, one of the private social clubs ('krewes') that stage parades and other Carnival festivities. The krewe's ceremonial King of Carnival ('Rex') proclaimed that gold represents power, green represents faith, and purple stands for justice.
The ironwork seen here is a characteristic feature of homes and buildings in the region. It traces back to the early 18th century, when slaves and freemen from West Africa, influenced by French and Spanish styles, crafted fences, gates, and railings from cast iron. The often elaborately ornamented designs adorn verandas and balconies, giving residents a pleasant place to cool off in the muggy Louisiana heat. In true New Orleans fashion, even the architecture reflects a blend of cultural influences that make the city so wonderful and unique.
Today on Bing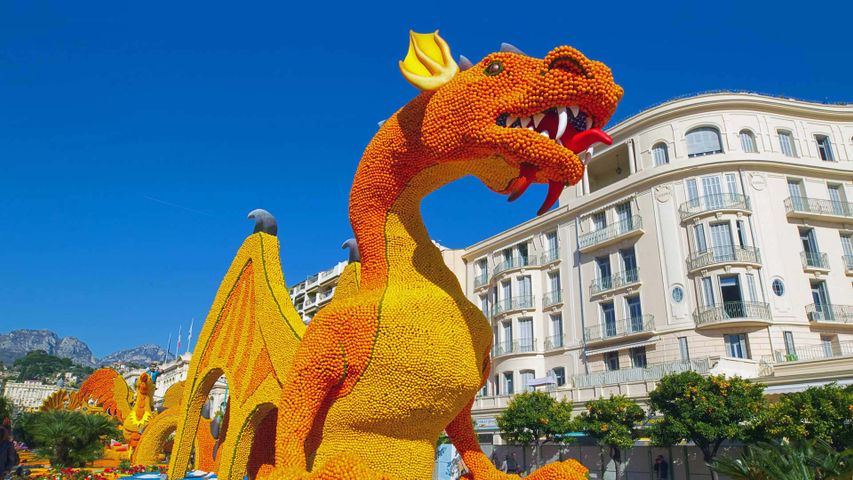 The 2019 Lemon Festival in Menton, France
Feb 16, 2020